Warning
: mysql_get_server_info(): No such file or directory in
/homepages/33/d380651905/htdocs/wordpress/wp-content/plugins/xml-google-maps/xmlgooglemaps_dbfunctions.php
on line
10
Warning
: mysql_get_server_info(): A link to the server could not be established in
/homepages/33/d380651905/htdocs/wordpress/wp-content/plugins/xml-google-maps/xmlgooglemaps_dbfunctions.php
on line
10
More than 50 local food enthusiasts assembled at Open Project Night on 22 May to hear from 4 local food enterprises and think how we can supply the gaps and challenges so that we can move towards a local food system that can supply real local needs and begin to compete with the corporate take-over of our food.
Watch this short film of the event:
We then broke in to 4 groups to discuss the issues raised, under the headings
Staying in Business, including financial sustainability, scaling up, staff and skills, finding customers and producers
Access to land, and buildings including community buildings, affordable work-space, and shops.
People – getting more volunteers, looking after them.
Connecting projects and people.
The outputs and actions from these discussions are here.
See below for a report on the presentations which kicked off this discussion, which includes an inspiring list of some of our local assets as well as the gaps and challenges, as perceived by Myatt's Fields Food Project, the Loughborough Farm, Brockwell Park Community Greenhouses and Local Greens, the community veg box scheme.
See a report of the event in the Independent and an interview with Duncan of Transition Town Brixton on the aims and background to the event here
The list of other local food projects represented is at the bottom of this post.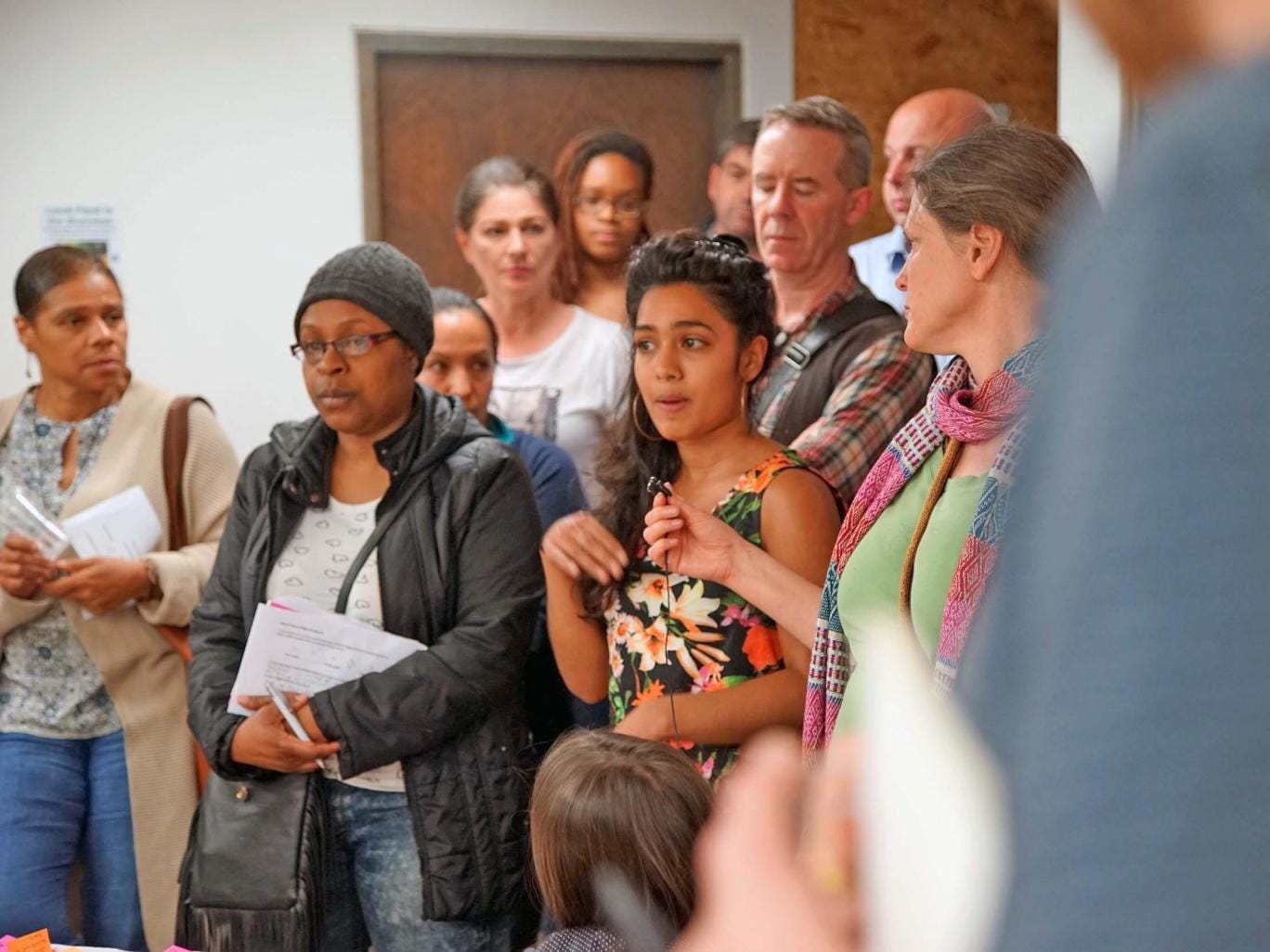 Myatt's Fields Food Project
Tori Sherwin, a founder and the development officer of the Myatt's Fields Food Project kicked off the proceedings with an inspiring presentations in which she identified many of the amazing ASSETS we possess locally in moving towards more local food. These include:
the Myatt's Fields Greenhouses seedlings project, providing free seedlings to community growing projects
fully equipped kitchen and meeting space for people to cook and share food together. 350 cooking sessions between 2011 and 2014.
the wealth of local food knowledge and the rich, diverse food culture
a local entrepreneur, Naybur, who is working on a transferring foods skills in the area
an abundance of would-be and actual local food entrepreneurs
the food bank
the Little Cat Community Cafe
the local food networks represented by Incredible Edible Lambeth and the Lambeth Food Partnership
the Vassall and Coldharbour Forum who have produced this map and convened work on a local food strategy and a Community Economic Development Plan.
the CREATE LAMBETH food business training
She outlined some of the gaps and challenges:
Demand for these assets is outstripping supply.
Food poverty: large areas of Vassall and Coldharbour wards are a 'food desert'. "There are hardly any shops, nowhere for people to sit and eat or for people to buy food,"
A need for mentoring and business advice for projects and individual entrepreneurs.
Access to affordable shops and production units including kitchens for hire.
Lack of access to community spaces.
Long term sustainability of projects due to gaps in funding.
See the Vassall and Coldharbour Forum food strategy planning document:Brockwell Greenhouses presentation food strategy VACF Local Food is the Business local greens
Loughborough Farm
Alex Rizzo, growing coordinator at the Loughborough Farm, described how the project brings the community together and provides opportunities for a huge range of people to do rewarding work. It's assets include:
the Farm
the Community Cafe opposite,
funding from the Mayor for LJ Work
partnership with other organisation to do the development work on the site
sharing of food and skills
"There's something about growing food and eating it together that builds trust," Tori Sherwin.
Gaps and challenges included:
having to move the Farm during the redevelopment work
being reliant on grants
wanting to expand growing to satellite sites on the Growing Communities 'Patchwork Farm' model.
Brockwell Park Community Greenhouses
Beth Barber, education officer at the Brockwell Park Community Greenhouses also had an impressive list of assets:
a large beautiful site with 2 professional greenhouses, a forest garden, a demonstration rotation growing site, fruit growing, a sensory garden, a small but dedicated team of volunteers.
vibrant education and arts projects
Gone to Seed elders project
Cooking using food from the site.
She identified these gaps and challenges:
more people: staff and skilled volunteers who can run sessions.
more money
better links with other projects to share equipment expertise and ideas
diverse income streams
a way of turning vandals into volunteers
a purpose build education space and kitchen.
help to seed new growing spaces in the community – to turn people into community project managers, with all the necessary skills
more business skills – how to negotiate with Registered Social Landlords for growing space on estates, how to get funding, build new business models around local growing.
Her presentation is here: Brockwell Greenhouses presentation
Local Greens
Finally Jean Bergin from Local Greens, which bring in food from growers less that 100 miles from London for 400 customers of this not-for-profit veg box scheme, provided a new perspective on factors affecting our food supply – notably Brexit and corporate encroachment.
Her gaps and challenges included:
Supply – competition from Ocado's new organic box scheme which is squeezing small independent schemes out of the market. This adds to the challenge to find enough seasonal, interesting, varied, reliable, quality veg local to London. She also wants growers who can extend the season by clever planting and stay in business.
Being a business –  charging a fair price while remaining commercially viable. Paying farmers and workers a fair price. The recent 200-300% hike in business rates presents a big, unexpected challenge.
People – keeping the skilled people they have found as living costs rise. They employ 4 part-time people. Finding other complementary part time work in the community for them is key. Looking after volunteers and their community.
Brexit – is already impacting food growers. See Brexit and British Food – the coming crisis article in the Guardian.
Farming is dependent on seasonal workers, many from the EU. After Brexit they may not be able to come.
The fall in the £ mean fewer seasonal worker from Europe are coming. Also imported food is costing pushing up overall prices. This is good for UK producers but tough for small independent schemes like Local Greens.
See also Food, the UK and the EU: Brexit or Bremain? briefing paper by Prof Tim Lang and DEFRA select committee report Feeding the Nation: Labour Constraints
Her presentation lists the issues: Local Food is the Business local greens
A contribution from Terrie-Ann Scott, local food entrepreneur working with Myatt's Fields Food Project:
"WHAT DO I WANT TO DO?
I would like to run my own business as a meal community cafe. To be able to do apprenticeships and training for young and mature people. To develop the new food economy to remain healthy and authentic and tasty at the same time. It's all about inclusion, not exclusion.
WHAT STANDS IN MY WAY?
Lack of community kitchen space
Premium of property
Business rates
Not being able to afford the rent
Not knowing information about what is available
Lack of money / funding
WHAT IS NEEDED?
Help
Business advice
Mentor"
Other local food projects represented at Local Food is the Business included:
Little Cat Cafe in Myatt's Fields Park
Brixton Soup Kitchen?
Brixton Food Assembly
Brixton People's Kitchen?
Brixton Pound Cafe
Brixton City Farm
Brixton People's Fridge
Incredible Edible Lambeth/Lambeth Food Partnership
Social Landscapes: Local Growing Training Network.
Father Nature
Brixton Energy for anaerobic digestion at Loughbrough Works
Community Food Growers Network?
The Community Shop and FarmCity
Urban Growth Learning Gardens
Streatham Herb Farm and Rootcraft
Mushroom farm in Kennington
Transition Town Crystal Palace Saturday Food Market/Patchwork Farm
Transition Town Tooting – Vegetanuary and Community Garden
Mission Kitchen
Oasis Adventure
Makeshift
Terrie-Ann Scott
several current trainees on the CREATE LAMBETH food business programme